Dunk Tank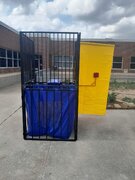 14' Gray Marble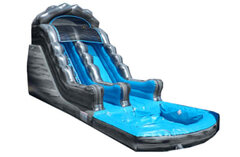 15' Dual Lane Green Marble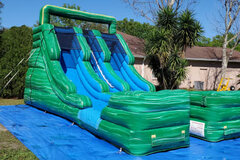 16' Blue Marble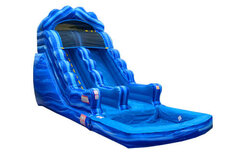 16' Dual Lane Tropical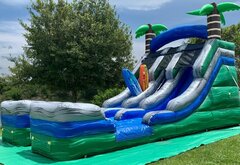 16' Dual Lane Jurassic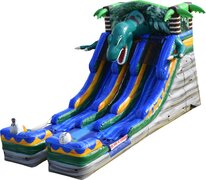 18' Dual Lane Volcano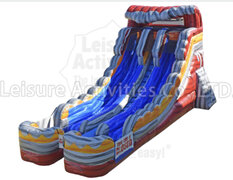 20' Tsunami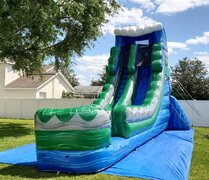 20' Unicorn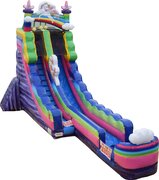 20' Shark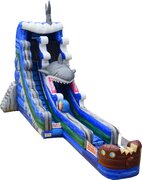 20' Dual Lane Purple Wave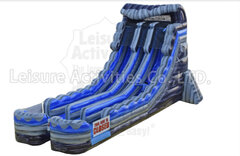 20' Dual Lane Lava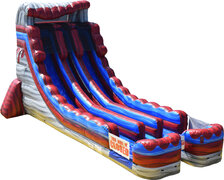 20' Volcano with Slip N Slide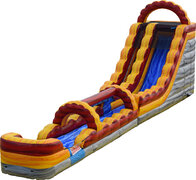 22' Dual Lane Cowabunga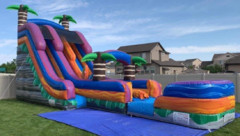 22' Dual Lane Cowabunga with Slip N Slide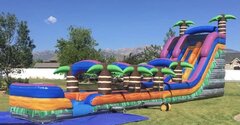 Tropical Slip N Slide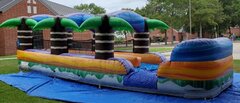 Water Slide Rentals from Party Planet Rentals
Waterslides are fun for everyone. We have a fantastic variety of slides to use for all occasions. Whether you are planning a small backyard party or a community event, there will be no shortage of fun with our water slides. All of our slides are top of the line and will ensure your enjoyment and safety.
Birthday Rentals
Are you ready to throw an unforgettable birthday bash? Our water slides will be sure to have a smile on everyone's face. We have the perfect slide for all ages. You don't have to be young to enjoy one of our wet, slippery water slides! From themed water slides to a slide perfect for any themed party. We'll bring the fun if you bring the crowd!
Corporate
Who said work had to be boring? Not us!! We know how to turn your next corporate event into the event of the year. Our water slides are perfect to keep the kids entertained for hours. We believe work should be fun so we make sure to add that extra something. Our water slides are sure to be the hit of your next corporate event.
Family Reunions
Family reunions are not just for talking about memories, it's more importantly about making new memories. We know that the best way to make memories is with a water slide! Any one of our choices in water slides will be sure to bring everyone together at your next family reunion.
We love a great party and we know there is no greater way of showing love then a water slide!! They are hours of fun for everyone and there won't be a short supply of smiles. We love creating memories and spending time with family. So give us a call, talk with one of our team members and let us help you find the perfect water slide, for the perfect day of wet 'n wild fun!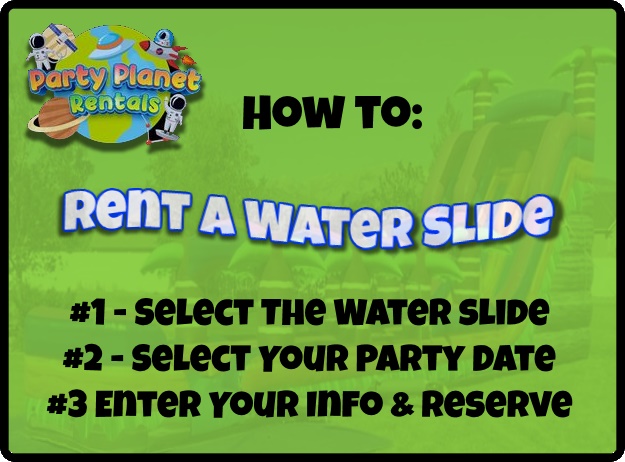 Looking for the Water Slide Rentals near me?
At Party Planet Rentals we rent Inflatable Slides, Water Slides and blow up slides alike. We deliver the awesome fun right to your backyard or event. As long as we get thru the gate we will see you there.
Our friendly staff is ready to assist you in planning your party rental or you can utilize our state of the art booking platform below to start your rental today. It is never too early to make a reservation in advance.
Simply the Best Water Slide Rentals
Water Slide Frequently Asked Questions (FAQs)
Q.
Do you just rent water slides or can we use the units dry to?
A.
Not all our inflatable slides require water, when making your selection you can usually spot the deep pool at the end of the slide or an inflated landing pad. The inflated landing pad gives users a soft place to land when sliding and can typically be used wet or dry, slides with pools for safety need to have water, balls, or even foam pads to cushion the slide. If you still have question please give us a call or text at (713) 936-4243
Q.
Can adults use the water slide rentals as well?
A.
Yes! Kids cannot be the only ones having all the fun. Most of our units are well equipped to handle the size and weight of most adults. If you have any questions again feel free to ask us. We are ready to help you plan the perfect party, in fact the best Party on the Planet!
Q.
Where can I rent a water slide near me?
A.
New Caney, Atascocita, Kingwood, Houston, Crosby, The Woodlands, Northeast Houston, Houston, Porter, Humble, Atascocita, Huffman, North Houston and surrounding areas.
Make Your Reservation Online
We have tried to make the process as easy as possible. We partnered with the best rental software platform on the market to bring you an easy and efficient way to book and keep track of your rental, with our contact-less delivery and ordering process.
Just simply select the date of your event and our system will show you what party equipment is available for that date and time. Need your rental a little longer or have a big event coming up you want to make sure every detail is in place? Contact us today and we can work together on planning the most amazing event ever!
Cheap Water Slide Rentals
We do not offer cheap water slide rentals, we do however have a great line of affordable inflatable water slides for rent. Our equipment is made of high-quality, lead free, commercial materials that are built to take the abuse of... kids being kids for years to come. We maintain high-standards and also clean and inspect our equipment regularly to ensure our rentals are ready for your party.




Read More